A group of South Korean Apple II enthusiasts have been making some homebrew clones of the Mockingboard sound card and selling them on eBay recently.  I was lucky enough to win one of these auctions, and the card arrived last week and was installed this weekend.
Here it is installed in slot 4 (that's the Disk Controller card in slot 6).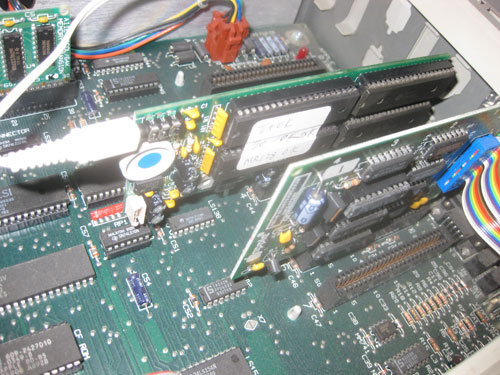 Here's another shot that shows the stereo jack line running out the back of the IIe: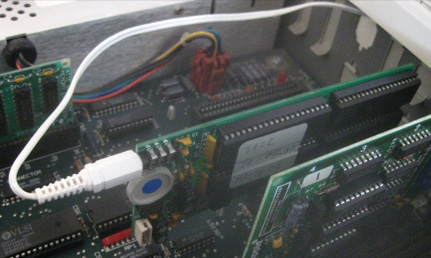 The auction made it clear that the speech synthesis aspect of this clone was iffy, but that's fine with me, because it's the music/sound effect aspect of it that I'm interested in.
I ran the stereo jack to the two desktop speaker/floor bass speaker unit I'd previously used with a PC that died a year and half ago (the speakers had just been gathering dust), and it sounds great!  I went through the Mockingboard demo disk and also loaded up Ultima IV and liked what I heard.
I've gone through a Word doc version of the Mockingboard manual, but I haven't had time yet to make any original music with it.  But here's a sample of some of the Ultima IV music playing though it, which is charming enough to almost make me want to try to finish that game again.  Both Virtual II and AppleWin do pretty good Mockingboard emulation, but, of course, there's something special about hearing the real thing (or a clone of the real thing

):  Unfortunately, I only have one mike, which means this is a mono recording and you're missing the cool way the two lead voices are each panned to a different speaker, but it still gives you a taste of Mockingboard-ness:
>> Listen to the Ultima IV title screen music played through the Mockingboard clone
(Edit: I'll try a direct-in stereo recording later this week, and replace the mono one above with it if I'm successful)