When I started this blog, I imagined I would be focusing almost exclusively on software/programming, a) because I don't have the skills to attempt my own hardware hacks and b) because I wanted to explore what has/could be done with an Apple II that was not enhanced with expansion cards (outside of the pretty standard 64k aux memory card).
Well, I was wrong.  Or rather, I discovered that while a) and b) are still true, I am also c) VERY interested in enhancing the Apple II with hardware when it comes to sound.  Inspired by the 8 bit Sound and Fury site, I acquired a Mockingboard and started looking around for a more complex set-up that would include a music keyboard I could use to make real-time synthesized music on the Apple II.
Several weeks ago I bought a set-up that realizes this wish.  It includes the Passport Designs Soundchaser keyboard and accompanying interface card and software, and the two Mountain Computer Music System cards that actually do the music synthesis.  I also picked up a Decillionix DX-1 Sound Sampling card at the same time.
Here you can see the Music System cards (connected to each other by their alarmingly thin white ribbon) in slots 4 and 5, and the Soundchaser interface card in slot 7 (behind the Music System cards you can see the Mockingboard and the DX-1):
Here's the Soundchaser keyboard with its software running in the background.  The rainbow ribbon in the lower left runs from the Soundchaser interface card into the keyboard.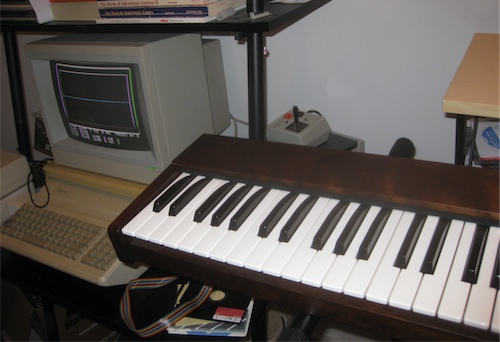 The Soundchaser's software interacts with the Music System cards to play two sounds simultaneously whenever you hit a key.  The two sounds (oscillators) each have separate envelope parameters (attack, decay, sustain, release) that can be tweaked in real-time, and there's also a Low Frequency Oscillator effecting both sounds that likewise can be tweaked real-time.  In addition, three basic waveforms (one for each sound + one for the LFO) can be separately edited.  All of that means there's quite a lot of flexibility and fun to be had in playing around with the various settings to produce different sounds.  (This seems in stark contrast with the software that came with the Music System cards – its default sounds are horrible and tweaking them seems fairly laborious — it seems like the Soundchaser folks did some careful thinking about how to get better sound out of the Music System than the Music System's original creators did.)  Once you have tweaked a particular voice to your liking, you can save its settings to disk as a Preset to be recalled again.  10 Preset voices (default or your own) are loaded at any one time, and you can switch between them while playing.
The DX-1 Digital Sampling card, which I hadn't rabidly wanted like the keyboard (I almost didn't get it), ended up being quite versatile.  It can hold up to 8 digital samples at once (the total depends on the size of the individual samples), and comes with three sets of example samples on its accompanying disk.  It actually has a very clean sound and responds great to real time, musically-pitched playing (triggering) via the Soundchaser keyboard. I haven't tried sampling an original sound yet, I need to buy a proper cable for that.
The following example recording is a sloppy mess, but it gives you an idea of some of the sounds the Soundchaser and DX-1 are capable of.  This was mostly recorded one track at a time, with a little double-tracking on the Apple II via the Soundchaser software's 4-track recording feature.  The drums are the DX-1 in 'rhythm mode' (ie, a loop) – occasionally played backwards (a DX-1 feature), and the bass line and first (and sporadically recurring) lead are both DX-1 samples being played in real-time via the Soundchaser.  All the other sounds are produced by the Soundchaser software via real-time playing of the keyboard.
Audio clip: Adobe Flash Player (version 9 or above) is required to play this audio clip. Download the latest version here. You also need to have JavaScript enabled in your browser.
(Download 'The Awkward Party')
Anyway, with this fun new gear, I hope to produce a new bit of Apple II music every month for the Mozomedia Music Podcast, starting with the June episode.